Just because your teeth aren't your own doesn't mean the whole world has to know about it.
But too often, tooth loss patients have little choice but to settle for replacement teeth that just don't work as well as the real thing, don't stay in place, and don't look very natural.
That's not a problem for those who trust our skilled dentist in Swedesboro, NJ!
Dr. Fox has extensive training and practical experience in implant dentistry, creating lifelike restorations for people who want to reclaim their oral health, their smiles, and their quality of life with new teeth that work for them!
Visit us to explore your dental implant options so you can live the life you deserve!
Call Elizabeth Kilpatrick-Fox, DMD today at 856-997-2767 or fill out our online form to schedule an appointment.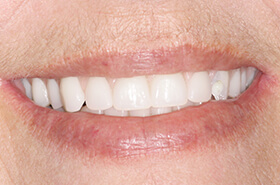 Visit Elizabeth Kilpatrick-Fox, DMD